Dilbar/Ishare Tere/Tere Te | Neha Kakkar Guru Randhawa | T-SERIES MIXTAPE SEASON 2 | Ep 2 Bhushan K
Amazon Prime Music presents Gulshan Kumar & Bhushan Kumar's T-Series MixTape Season 2 -Chartbuster Hits. Reimagined. We bring to you the second song Dilbar/Ishare Tere/Tere Te,Episode 2 of T-Series Mixtape season 2 in the voice of Neha Kakkar Guru Randhawa.

T-Series Mixtape season 2 has 16 songs, 28 singers, one mixtape. The music is by Abhijit Vaghani and the series is Produced by Bhushan Kumar and Directed by Ahmed Khan.

♪ Stream it on Amazon Prime Music: .

#TSeriesMixtapeSeason2 #Dilbar/Ishare Tere/Tere Te #Mixtape2onAmazonMusic


♪ Full Song Available on ♪
iTunes :
Hungama :
Apple Music :
Spotify :
Google Play :
Wynk :

Song: Dilbar/Ishare Tere/Tere Te
Singers: Neha Kakkar & Guru Randhawa
Music By - Abhijit Vaghani
Produced By: Bhushan Kumar
Directed By: Ahmed Khan
Conceptualized & Developed By - Sonal Chawla & Shivam Chanana
Editing Team: Sachin Tiwari, Rishi Neupane, Vivek Shevade
DI and Online Edit: Nadeem Akhtar (Paperboyz Studioz)
Creative Assistant and Project Coordinator to Abhijit Vaghani - Jay Mehta
2nd unit director: Adnan Shaikh
DOP: Farooque Khan
Executive Producer: Sunita Prashant Tripathi
Production head: Mithilesh Kamath
Art Director: Prabhar Thakur
Creative Designs : Sunil Sharma, Dhananjay Pant

Presented By - Amazon Music India

President Marketing, Media & Publishing - Vinod Bhanushali
President Digital & Legal - Neeraj Kalyan
Marketing Team - Bhavesh Bhanushali, Pooja Vora, Rajendram Akula

T-Series Production Team
Ravi Chaturvedi
Andrew D'Souza
Preeti Lepcha
Zeeshan Sheikh
Alok Shukla

T-Series Digital Team (Mumbai)
Prashant Shetty
Andrew D'Souza
Vahishta Bharucha

T-Series Digital Team (Delhi)
Varun Arora
Juhi Singh
Surabhi Choubey
Akanksha Chaudhary
Garishma Gandhi

T-Series A & R Team
Shivam Chanana
Sonal Chawla
Varun Arora
Raj Chanana
Vivin Sachdeva
Sonu Srivastava

Rehearsed At- T-Series Studios
Recorded By - Surajit Ghosh Mazumdar, Dattaray Narvekar
Mixed And Mastered By Aftab Khan At Headroom Studio
Mix Assistant : Vatsal Chevli

Team AV
Mahima Batra
Sanjeev Kohli
Saurabh- Jay
Nuaman Mulla

Additional Music Credits:
Music Produced by Abhijit Vaghani
Co-Produced by Harshit Jain
Guitar Arrangement by Shomu Seal
Acoustic Guitar: Ravi Kumar & Sam Haldar
Electric Guitar: Pushpak Trivedi
Bass Guitar: Pooja Mazoomdar
Drums: Rahul Pandirkar
Keys: Nikita Kulkarni
Grand Piano: Ena Marley
Woodwinds: Tejas Vinchurkar
Percussions: Gautam Sharma & Mithali Vinchurkar

Backing Vocalists: Bhrigu Parashar, Nuaman Mulla, Aalok Gandhi, Aadil Khan, Samarth Srinivasan, Nidhi Gusain, Sandipa Dutta, Akshada Thanekar & Bornalee Deuri.
English Vocals: Akshara Parashar
Backing vocals arrangement - Aditya N

Original Song Credits:
Song 1: Dilbar Dilbar
Singer: Alka Yagnik
Lyrics: Sameer
Song 2: Ishare Tere
Singer: Guru Randhawa, Dhvani Bhanushali
Music: Guru Randhawa
Lyrics: Guru Randhawa
Song 3: Tere Te
Singer - Guru Randhawa
Rap - Ikka
Lyrics- Ikka
Music - Vee
___
Enjoy & stay connected with us!

---
YouTube Images
All images from the biggest to the smallest
Click the right mouse button and select "Save Image As ..." to download the original image to your computer.
---
Image URLs:
Direct link to image with resolution: 1280x720
---
Direct link to image with resolution: 640x480
---
Direct link to image with resolution: 480x360
---
Direct link to image with resolution: 320x180
---
Direct link to image with resolution: 120x90
---
A few frames from the video and URLs to each: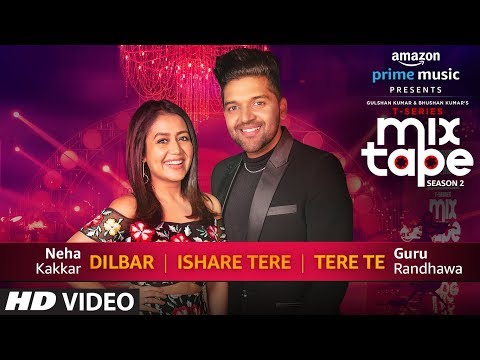 ---
Title and Description
Description and title of the video.
If the fields are empty, then there is no description for the video.
---
Description of the video.
---
---