Great Dane beef tenderloin challenge goes predictably wrong
Most people have seen the videos of people putting eggs in their dogs mouth to demonstrate the dogs' impressive obedience and discipline. The dogs usually hold the egg without crunching it until it is removed from their mouth. Not all of the challenges go well though and the results can be very funny.<br>But the egg challenge has been done many times now and it was time to switch things up and make it more of a feat.<br><br>Briva is a 12 year old Great Dane. She is blind and she moves more slowly than she did in her younger years, but she has not lost her sense of taste or her appetite.<br><br>Briva has been a fantastic dog. She has served her family with great loyalty, being a good friend, family protector and a source of a lot of love and a lot of laughs. Danes are unique in many ways and their enormous size makes them an interesting breed to own. Their mouth can reach almost any surface in the house and unattended food is never safe. Briva has eaten a whole roast, a Christmas turkey, and several birthday cakes. She once ate a chocolate cake like it was a two bite brownie, requiring a trip to the vet clinic for treatment.<br><br>But all of that nonsense was in her youth and she has matured and developed a sense of restraint, or at least her owner, Dave hopes she has. He is curious to see if she cane perform the egg challenge with beef tenderloin and make him proud.<br><br>Dave cooked two chunks of the most tender beef, marinated and fried in a little butter. This will be Briva's chance to do what no other dog he knows can do. Dave sliced the beef into strips and called Briva over. You can tell that Briva knows the fun is about to start. The first slice disappears as soon as it is offered, never to be seen again. And the second. It's the same with several more pieces of beef. It becomes clear that Briva's idea of completing the beef tenderloin challenge is to eat the beef as fast as possible and lick the plate clean. And for a dog as wonderful as Briva, this is perfectly fine.
Source & embed code: .
For licensing, please email
[email protected]
---
Obrázky YouTube
Všechny obrázky od největších po nejmenší
Klepněte pravým tlačítkem myši a vyberte "Uložit obrázek jako...", chcete-li stáhnout původní obrázek do počítače.
---
Adresy URL obrázků:
Přímý odkaz na obrázek s rozlišením: 1280x720
---
Přímý odkaz na obrázek s rozlišením: 640x480
---
Přímý odkaz na obrázek s rozlišením: 480x360
---
Přímý odkaz na obrázek s rozlišením: 320x180
---
Přímý odkaz na obrázek s rozlišením: 120x90
---
Několik snímků z videa a adres URL ke každému: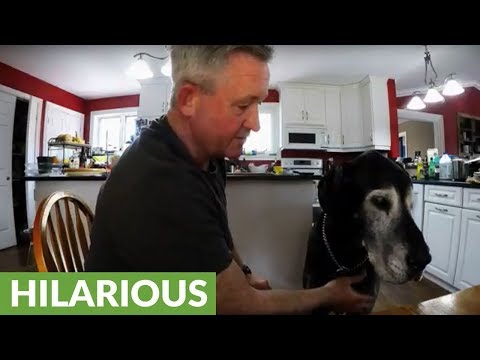 ---
Název a popis
Popis a název videa.
Pokud jsou pole prázdná, neexistuje popis videa.
---
---
---