WonderCon Best Cosplay 2017 #ThatCosplayShow

Did you like the video you just saw? Do you want to help us make more? Consider buying us a cup of coffee (click the Ko-Fi link).

It is no secret that revenue on YouTube is non-existent. Although we now lose money on every video, we like doing it and are committed to making more and more stuff. Your contribution could help buy Ben an overpriced convention center salad. Or bus fare for the director. If we get enough activity, we will develop even more content (WE GOT IDEAS!). Or maybe a Patreon.

Even if you aren't able to donate, know that we appreciate you.
If you are hate-reading this, we still like you.


SDCC 2016:
ANIME EXPO 2016:
WONDERCON 2016:

This video features:
Jacqueline Goehner (Zelda)
Stephanie Michelle (Sexy Stan Lee)
Milynn Sarley (Star Sapphire Bunny)
Amanda Lynne (Batgirl)
Sydney Marie (Spinneret)
Tara (Nami)
Alexis (Poison)
Alyssa (Chun Li)
Tokki (Cammy)
Mouse (Spider-Gwenpool)
Nick (Joker Negan)
Devon (Alexander Hamilton)
Jes (Hal Jordan Bunny)
James (Luke Cage)

Hosted by Ben Pace (Twitter: @bbpace)

Check out for more cosplay-ish-ness!
---
Obrázky YouTube
Všechny obrázky od největších po nejmenší
Klepněte pravým tlačítkem myši a vyberte "Uložit obrázek jako...", chcete-li stáhnout původní obrázek do počítače.
---
Adresy URL obrázků:
Přímý odkaz na obrázek s rozlišením: 1280x720
---
Přímý odkaz na obrázek s rozlišením: 640x480
---
Přímý odkaz na obrázek s rozlišením: 480x360
---
Přímý odkaz na obrázek s rozlišením: 320x180
---
Přímý odkaz na obrázek s rozlišením: 120x90
---
Několik snímků z videa a adres URL ke každému: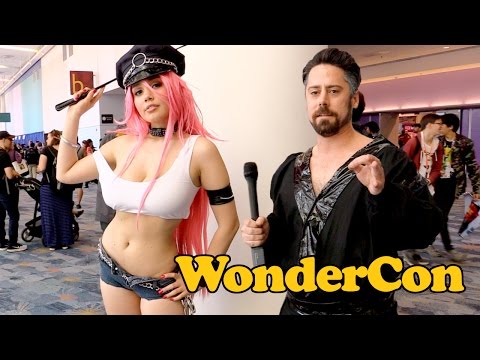 ---
Název a popis
Popis a název videa.
Pokud jsou pole prázdná, neexistuje popis videa.
---
---
---