CSGO Nuke and Canals Changes (MASSIVE UPDATES) February 8 2018
NEW CSGO UPDATE:
Release Notes for 2/8/2018
2018.02.08 -

[ GAMEPLAY ]
– Enabled shotgun spread patterns on official matchmaking servers as described in

[ MISC ]
– Co-op Strike, Wingman, and Flying Scoutsman tags have been added to the workshop, so map authors can now tag their maps as playable in those modes.
– Co-op Strike, Wingman, and Flying Scoutsman tagged maps can now be launched into those modes from the Workshop tabs in game.
– Added a map place-able entity (vgui_world_text_panel) that allows mappers to put floating, localizable text in their map without needing custom res files.
– Added vscript function named ScriptPrintMessageCenterAllWithParams which requires 3 params that get inserted into the localization token at the %s1's.
– CGamePlayerEquip now handles picking up healthshots and now respects max carry for grenades.
– Disabled sv_allowupload by default. If enabled, the filter restricting potentially malicious file types has been expanded.
– No longer exposing the server IP to clients in a circumstance where it wasn't necessary. This should help prevent some DoS attacks.

[ MAPS ]
Nuke:
– Removed outer catwalk completely
– Removed helper catwalk onto silo
– New type of skylight windows in A site
– Added some cover in corner at back of B site
– Removed railings when entering B site from ramp
– Removed window in hut
– Moved entrance to hut slightly further in
– Moved up spawns for both teams
– Flipped static doors at T entrance to ramp
– Blocked off "old secret" area outside of garage
– Added solid white walls near CT spawn
– Rotated container outside of garage, and removed some smaller crates
– Removed access to crane inside of A site, made more of rafters accessible
– Reverted box-path onto hut inside A site to the old configuration
– Removed ladder up to rafters from inside A site
– Added collision for physics objects (except grenades) near water in B site

– For tournament organizers, the old version of Nuke is available on the Workshop.

Canals:
– Closed off windows overlooking courtyard and A
– Cleaned up sightline from corner balcony toward A and Arch
– Made CT route to B more direct
– Joined two rooms on CT side of B into one space
– Simplified cover on back side of B
– Removed Ivy "laddice", now a skill jump / boost spot
– Grenade-clipped CT bridge railings for more predictable smokes
– Moved courtyard statues forward for cleaner sightline
– Added ashtray for smokers

– Re-released and updated the Phoenix Compound co-op map on the workshop.
– Updated Cache and Shipped to the latest versions. Details can be found on the workshop pages.
— Cache Release Notes
— Shipped Release Notes

[ CO-OP STRIKE ]
– When players complete a custom co-op mission, it now restarts the map at the end of intermission instead of sitting at a black screen.
– Fixed barrel exploding particle effect relying on a specific map's effects and now has it's own unique effects.
– Slightly increased barrel explode radius.
– Added mp_heavybot_damage_reduction_scale convar which allows maps/missions to adjust how much damage heavy bots can take.
– Various fixes to the Heavy Assault Suit in Co-op Strike mode to allow it to work like it used to in that mode.
– Exposed some convars to allow Co-op Strike (and other modes) to adjust the Heavy Assault Suit (mp_weapons_allow_heavyassaultsuit, mp_heavyassaultsuit_speed, mp_heavyassaultsuit_deploy_timescale,

Hi guys this is nio Remember to Rate, comment and Subscribe if you enjoy :D



My info -






Counter-Strike: Global Offensive is a multiplayer first-person shooter video game developed by Hidden Path Entertainment and Valve Corporation. It is the fourth game in the Counter-Strike series, and was released for Microsoft Windows, OS X, Xbox 360, and PlayStation 3 in August 2012, with the Linux version being released in September 2014. Cross-platform multiplayer was planned between Windows, OS X, Linux, and PlayStation 3 players, but was ultimately limited the computer versions because of the difference in update-frequency between systems.
The game pits two teams against each other: the Terrorists and the Counter-Terrorists. Both sides are tasked with eliminating the other while also completing separate objectives, the Terrorists, depending on the game mode, must either plant the bomb or defend the hostages, while the Counter-Terrorists must prevent the bomb from being planted or to rescue the hostages. There are six game modes, all of which have distinct characteristics specific to that mode.
...
---
Obrázky YouTube
Všechny obrázky od největších po nejmenší
Klepněte pravým tlačítkem myši a vyberte "Uložit obrázek jako...", chcete-li stáhnout původní obrázek do počítače.
---
Adresy URL obrázků:
Přímý odkaz na obrázek s rozlišením: 1280x720
---
Přímý odkaz na obrázek s rozlišením: 640x480
---
Přímý odkaz na obrázek s rozlišením: 480x360
---
Přímý odkaz na obrázek s rozlišením: 320x180
---
Přímý odkaz na obrázek s rozlišením: 120x90
---
Několik snímků z videa a adres URL ke každému: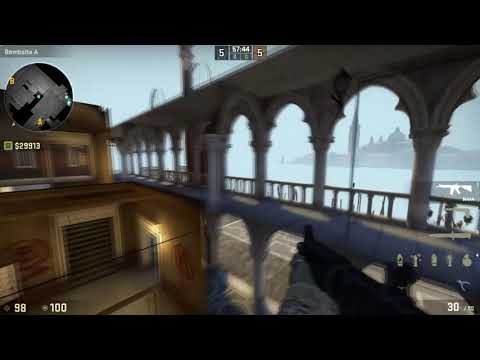 ---
Název a popis
Popis a název videa.
Pokud jsou pole prázdná, neexistuje popis videa.
---
---
---