Darkhaast/Aankhon Mein Teri | Sukriti Kakar Armaan Malik Abhijit V | Ep. 7 | Bhushan K Ahmed K
Amazon Prime Music presents Gulshan Kumar & Bhushan Kumar's T-Series MixTape Season 2 -Chartbuster Hits. Reimagined. We bring to you the mixtape of "Darkhaast/Aankhon Mein Teri ", Episode 7 of T-Series Mixtape season 2 in the voice of SSukriti Kakar, Armaan Malik & Abhijit Vaghani.

T-Series Mixtape season 2 has 16 songs, 28 singers, one mixtape. The music is by Abhijit Vaghani and the series is Produced by Bhushan Kumar and Directed by Ahmed Khan.

#TSeriesMixtapeSeason2 #IkVaariAa/NadaanParindey/Tum Ho Toh #Mixtape2onAmazonMusic

Song: Darkhaast-Aankhon Mein Teri
Singers: Sukriti Kakar & Armaan Malik
Music By - Abhijit Vaghani
Produced By: Bhushan Kumar
Directed By: Ahmed Khan
Conceptualized & Developed By - Sonal Chawla & Shivam Chanana
Editing Team: Sachin Tiwari, Rishi Neupane, Vivek Shevade
DI and Online Edit: Nadeem Akhtar (Paperboyz Studioz)
Creative Assistant and Project Coordinator to Abhijit Vaghani - Jay Mehta
2nd unit director: Adnan Shaikh
DOP: Farooque Khan
Executive Producer: Sunita Prashant Tripathi
Production head: Mithilesh Kamath
Art Director: Prabhar Thakur
Creative Designs : Sunil Sharma, Dhananjay Pant

Presented By - Amazon Music India
President Digital & Legal - Neeraj Kalyan
President Marketing, Media & Publishing - Vinod Bhanushali
Marketing Team - Bhavesh Bhanushali, Pooja Vora, Rajendram Akula

T-Series Production Team
Ravi Chaturvedi
Andrew D'Souza
Preeti Lepcha
Zeeshan Sheikh
Alok Shukla

T-Series Digital Team (Mumbai)
Prashant Shetty
Andrew D'Souza
Vahishta Bharucha

T-Series Digital Team (Delhi)
Varun Arora
Juhi Singh
Surabhi Choubey
Akanksha Chaudhary
Garishma Gandhi

T-Series A & R Team
Shivam Chanana
Sonal Chawla
Varun Arora
Raj Chanana
Vivin Sachdeva
Sonu Srivastava

Rehearsed At- T-Series Studios
Recorded By - Surajit Ghosh Mazumdar, Dattatray Narvekar
Mixed And Mastered By Aftab Khan At Headroom Studio
Mix Assistant : Vatsal Chevli

Team AV
Mahima Batra
Sanjeev Kohli
Saurabh- Jay
Nuaman Mulla
Samarth Srinivasan

Additional Music Credits:
Music Produced by Abhijit Vaghani
Co-Produced by Harshit Jain
Guitar Arrangement by Shomu Seal
Acoustic Guitar: Ravi Kumar & Sam Haldar
Electric Guitar: Pushpak Trivedi
Bass Guitar: Pooja Mazoomdar
Drums: Rahul Pandirkar
Keys: Nikita Kulkarni
Grand Piano: Ena Marley
Percussions: Gautam Sharma & Mithali Vinchurkar
Sitar : Sarang
Backing Vocalists: Bhrigu Parashar, Aalok Gandhi, Aadil Khan, Samarth Srinivasan, Akshara Parashar, Nidhi Gusain, Sandipa Dutta, Akshada Thanekar & Bornalee Deuri
Backing vocals arrangement – Team AV

Original Song Credits:
Song 1: Darkhaast
Singer: Arijit Singh & Sunidhi Chauhan
Music Director : Mithoon
Lyrics: Sayeed Quadri
Song2: Aankhon Mein Teri
Album : Om Shanti Om
Singer : K.K.
Lyricist : Vishal Dadlani
Music Director : Vishal Dadlani, Shekhar Ravjiani
___
Enjoy & stay connected with us!

---
Obrázky YouTube
Všechny obrázky od největších po nejmenší
Klepněte pravým tlačítkem myši a vyberte "Uložit obrázek jako...", chcete-li stáhnout původní obrázek do počítače.
---
Adresy URL obrázků:
Přímý odkaz na obrázek s rozlišením: 1280x720
---
Přímý odkaz na obrázek s rozlišením: 640x480
---
Přímý odkaz na obrázek s rozlišením: 480x360
---
Přímý odkaz na obrázek s rozlišením: 320x180
---
Přímý odkaz na obrázek s rozlišením: 120x90
---
Několik snímků z videa a adres URL ke každému: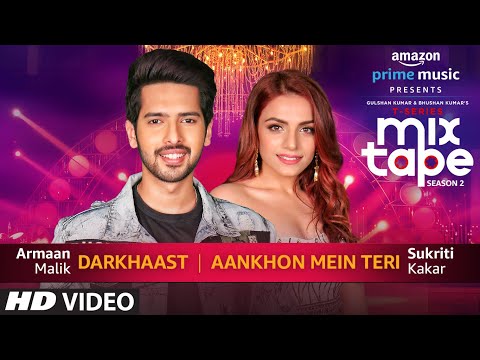 ---
Název a popis
Popis a název videa.
Pokud jsou pole prázdná, neexistuje popis videa.
---
---
---