Crème d'échalote with seared scallops (French creamy shallot sauce for fish and scallops)
Analog Google AdSene - High payouts, Bonus 5$ for registration
Seared scallops with crème d'échalote is a delicious and simple sauce. With a base of butter and cream blended with shallots, tarragon and wine reduction it's very similar to beurre blanc. The crème d'échalote goes well with any white fish or, as shown in today's recipe, with seared scallops. A perfect match!

********************************************
Ingredients needed for the sauce:
(This recipe will produce enough sauce for 4 or more people, depending on how much sauce you use.)

150 ml of dry white wine (like a muscadet or sauvignon blanc)
250 ml of liquid cream (heavy whipping cream or double cream)
50 grams of finely sliced shallots
1 gram of fresh tarragon (finely chopped)
125 grams of plain unsalted butter, cut in small cubes (must be fridge cold)
Half a teaspoon of crushed black pepper (mignonette)
A pinch of salt ( or add to your taste)
A pinch of cayenne pepper

Notes and tips:
- In this video, only half the quantities listed above were used
- The butter used in the sauce must be cold
- Reducing the cream with the quantity above might take up to 10 minutes
- If you use a julienne of citrus, plunge the julienne in boiling water for a few minutes before using


MY FILMING EQUIPMENT:
************************************
VIDEO CAMERA:


MICROPHONE:


HANDHELD CAMERA:


DSLR PHOTO CAMERA:


PORTRAIT LENS:


MACRO LENS:


(Affiliate links)
****************************************************************************
IF YOU ENJOY WATCHING MY VIDEOS PLEASE CONSIDER
THE OPTIONS BELOW TO SUPPORT MY CHANNEL
(This ensures I can continue making content for you!)

* Subscribe and spread the word about the channel and website.

* Check out my Amazon cookware page (affiliate link)


* Become a channel supporter on Patreon:


Today's dish is seared scallops with crème d'échalote. This french recipe tutorial focuses on teaching you how to make this classic French sauce that can be served with fish or scallops.

The culinary technique we will learn today is a sauce that starts with a reduction a sec (reduction of an acidic liquid to an almost dry state) which is then "binded" by a reduction process (no thickening agent are added).

This particular sauce starts with a reduction of white wine shallots and fresh tarragon and black peppercorn ("mignonette").
---
Obrázky YouTube
Všechny obrázky od největších po nejmenší
Klepněte pravým tlačítkem myši a vyberte "Uložit obrázek jako...", chcete-li stáhnout původní obrázek do počítače.
---
Adresy URL obrázků:
Přímý odkaz na obrázek s rozlišením: 1280x720
---
Přímý odkaz na obrázek s rozlišením: 640x480
---
Přímý odkaz na obrázek s rozlišením: 480x360
---
Přímý odkaz na obrázek s rozlišením: 320x180
---
Přímý odkaz na obrázek s rozlišením: 120x90
---
Několik snímků z videa a adres URL ke každému: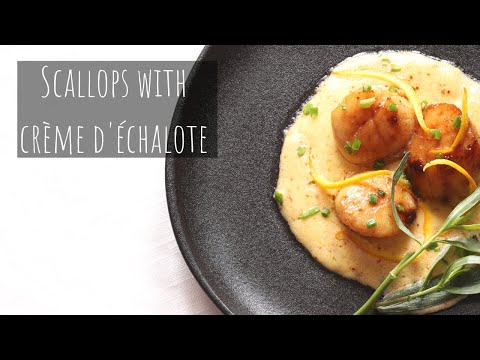 ---
Název a popis
Popis a název videa.
Pokud jsou pole prázdná, neexistuje popis videa.
---
---
---