How to Make Baldi Basics VooDoo Doll! Hacked LIVE While Recording!!
How to Make Baldi Basics VooDoo Doll! Hacker Attempt Blocked LIVE While Recording!!
Subscribe:
Check out our New Video:

Making Baldi's Basics VooDoo Doll at 3PM Game Master Tries Hacking our Channel! We asked you guys what you wanted to see next and we listened! Today we found a voodoo doll and turned it into Baldi from Baldi's Basics. You wouldn't believe what else happened, someone for reals in real life tried hacking into our Youtube account and we caught it all on camera! Do you think it was the Game Master?

Subscribe to all our Channels!!!
Beyond Family Vlogs:
Madison & Beyond:
Trinity & Beyond:

Follow Trinity and Beyond:
FaceBook:
IG:
Twitter:

Watch More Trinity and Beyond:
Granny in Real Life:
Hello Neighbor in Real Life:
Baldi's basics in Real Life:
JoJo Siwa Videos:
Elf on the Shelf Videos: 
Box Forts: 
SLIME Videos: 
Epic prank Videos:
Toys & Scavenger Hunts:
3 Marker Challenges:
Family Games:
3AM Videos:

Help Subtitle and Translate our videos here:

About Trinity and Beyond:
Hey guys! Thanks for visiting our YouTube Channel! This channel stars Trinity and her whole YouTube Family with Madison, Dad, Mom, and sometimes uncle Jason! This is a pg family friendly channel with videos made for kids! We do lots of challenges that are tons of fun, Hello Neighbor and Baldi's Basics in Real Life Toy Scavenger Hunts, Granny IRL, 3AM Skits, Calling Videos, Mailing Myself Videos, Slime Videos, Epic Pranks, and more!

Thanks again for visiting our channel. Please subscribe and turn on notifications to never miss a video!

#trinityandbeyond #VooDooDoll #Baldi
---
Obrázky YouTube
Všechny obrázky od největších po nejmenší
Klepněte pravým tlačítkem myši a vyberte "Uložit obrázek jako...", chcete-li stáhnout původní obrázek do počítače.
---
Adresy URL obrázků:
Přímý odkaz na obrázek s rozlišením: 1280x720
---
Přímý odkaz na obrázek s rozlišením: 640x480
---
Přímý odkaz na obrázek s rozlišením: 480x360
---
Přímý odkaz na obrázek s rozlišením: 320x180
---
Přímý odkaz na obrázek s rozlišením: 120x90
---
Několik snímků z videa a adres URL ke každému: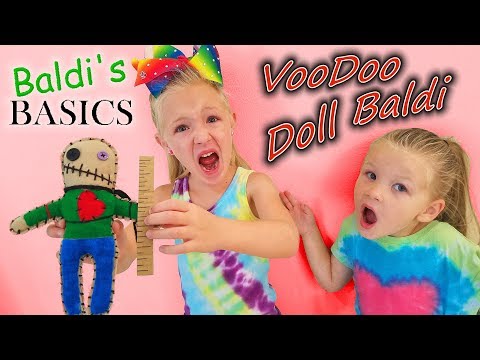 ---
Název a popis
Popis a název videa.
Pokud jsou pole prázdná, neexistuje popis videa.
---
---
---